This month I tried to pay attention to my Monster High dolls. There were two reasons for this. First - I have more of Monster High than I should (but less than I would like to have). They have different skntones, different hair color and hairstyle... So every outfit I make is like something totally new and exciting.
Second - as You know, I have Etsy shop. This month I joined a team called "TEAM + 10". It's a "challenge for sellers that want to grow their business. Add +10 listings to your shop each month, or set your own goal!" One of my goals was to add at least 10 doll outfits. So I thought this time I could be Monster High doll outfits.
So, this post is kind of gallery of my March goal in "TEAM + 10". As month is not over yet, I have only six outfits this far, but I will make more :) After all, my Claudine werewolf and roller skater Frankie also wants to be models :)
So, here I present You my newest Monster High doll dress collection - all dresses are crocheted. Each dress has some matching accessorie - either headband, or belt, or bracelets... Also all of them are kind of "OOAK" (one-of-a-kind") - I don't use any patterns so I'm pretty sure I won't be able to make another same looking outfit - somethind very similar - yes, but not same.
So - take a look and enjoy!
P.S. (Tiny self promotion) If You want something, You can buy it here:
KikamoraCrafts on Etsy >>
Monster High doll outfits crocheted by KikamoraCrafts!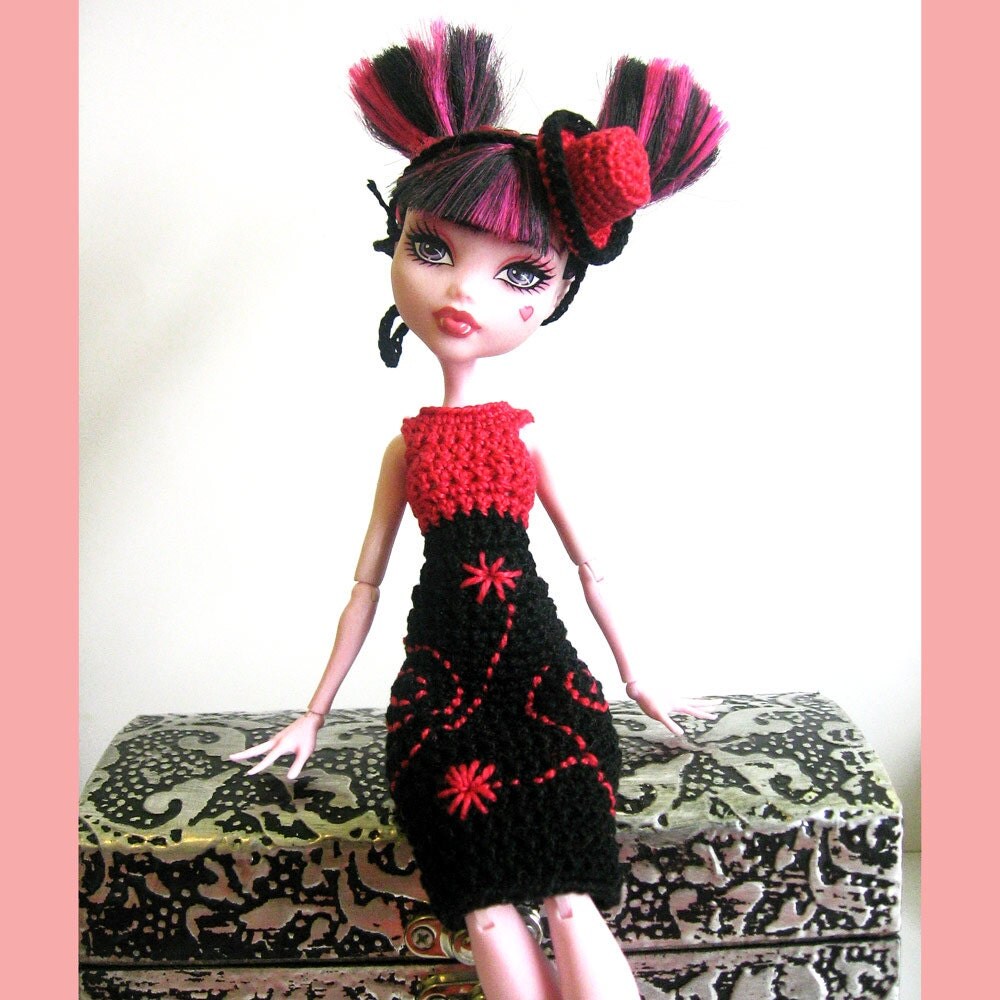 Crocheted dress in red and black for Monster High dolls.
"Live model" - Draculaura.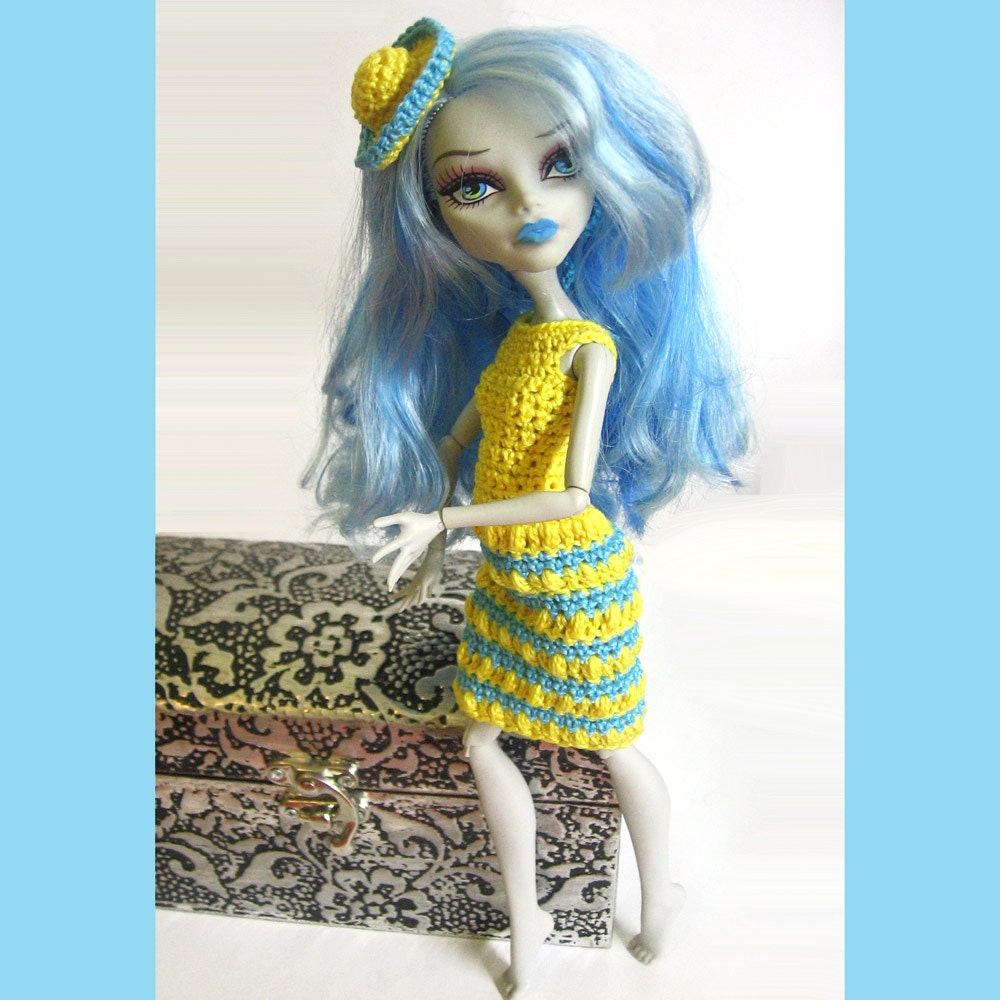 Crocheted dress for Monster High doll on my "live model" Ghoulia.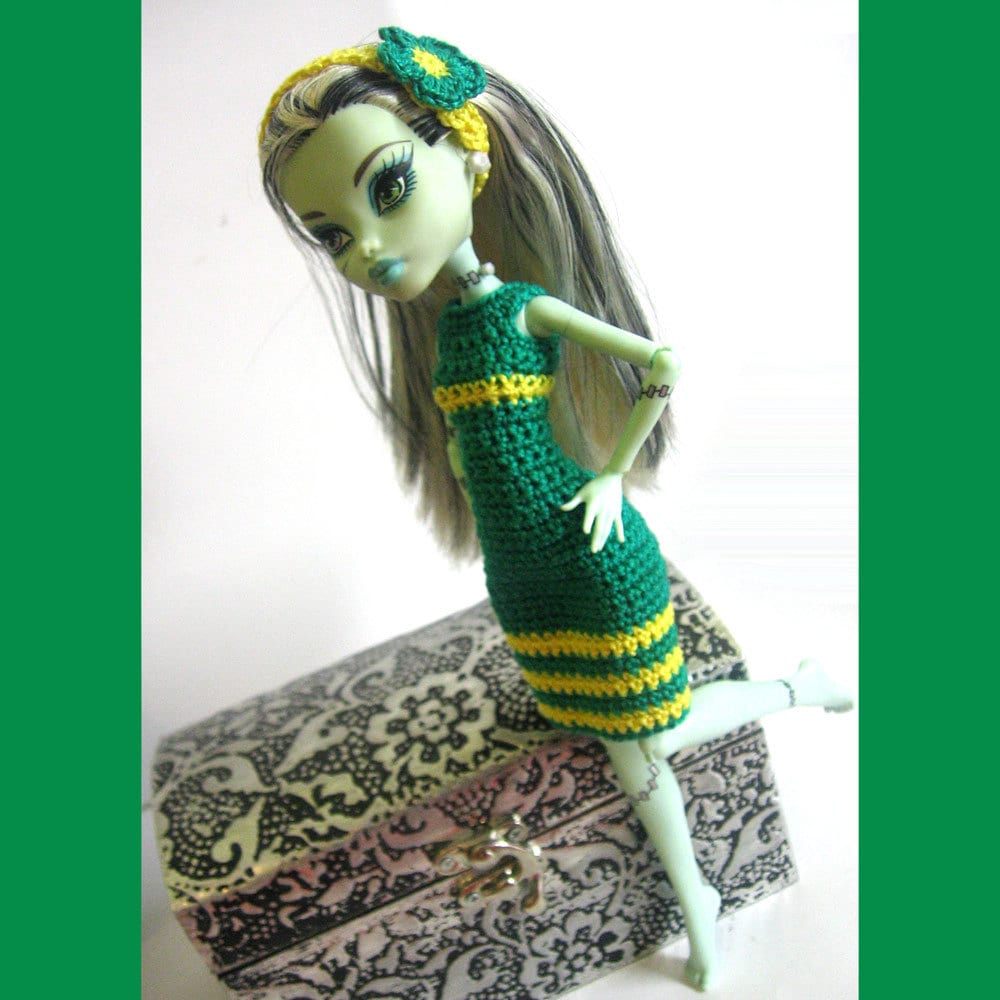 Jade green dress for Monster High dolls. As You can see,
Frankie looks great in it!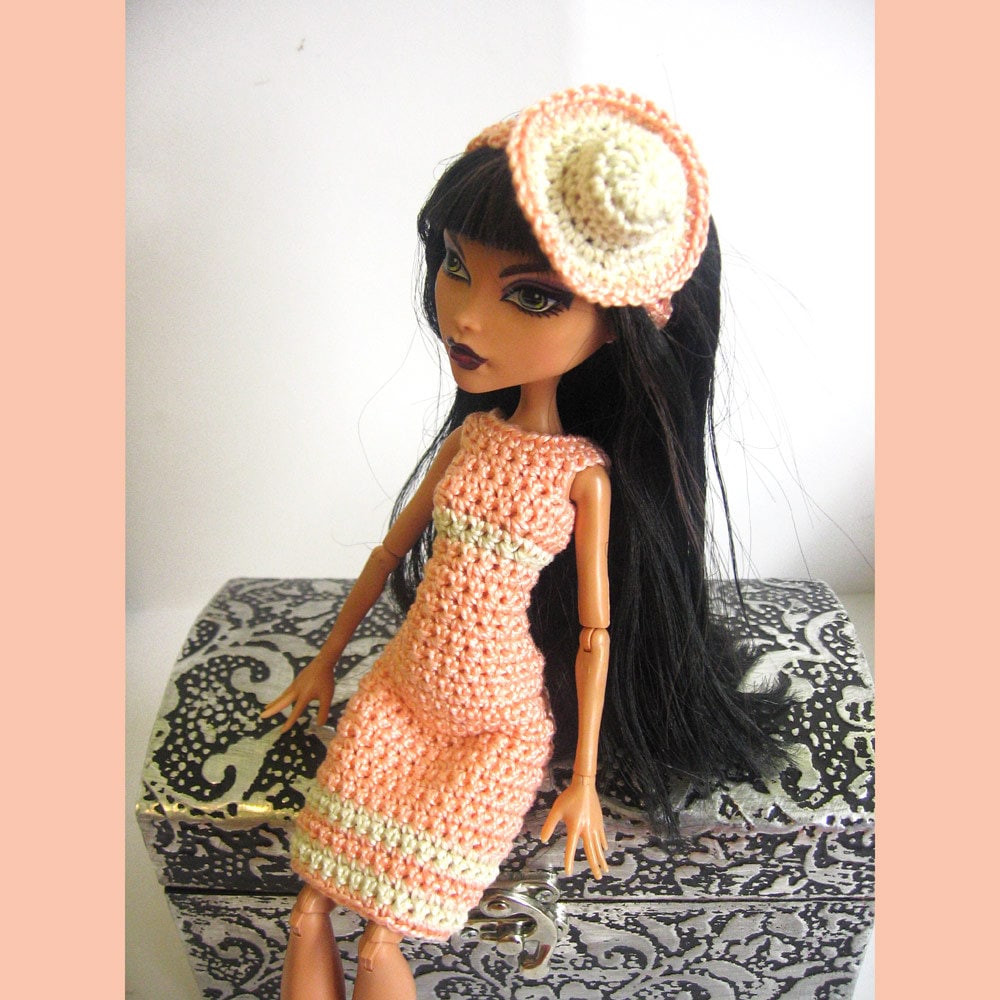 Peach pink dress for Monster High dolls. Cleo looks sweet
in this outfit, doesn't she?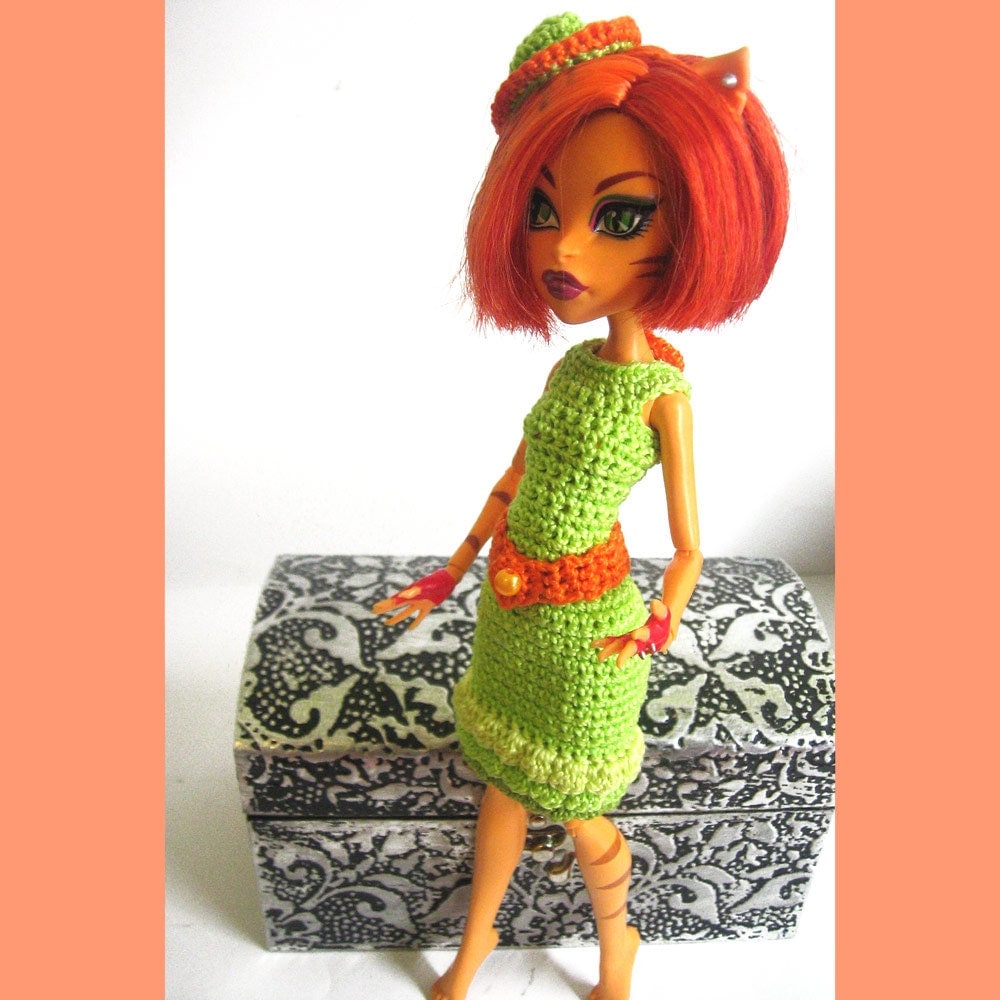 Light green dress with ruffle and orange belt for Monster High dolls.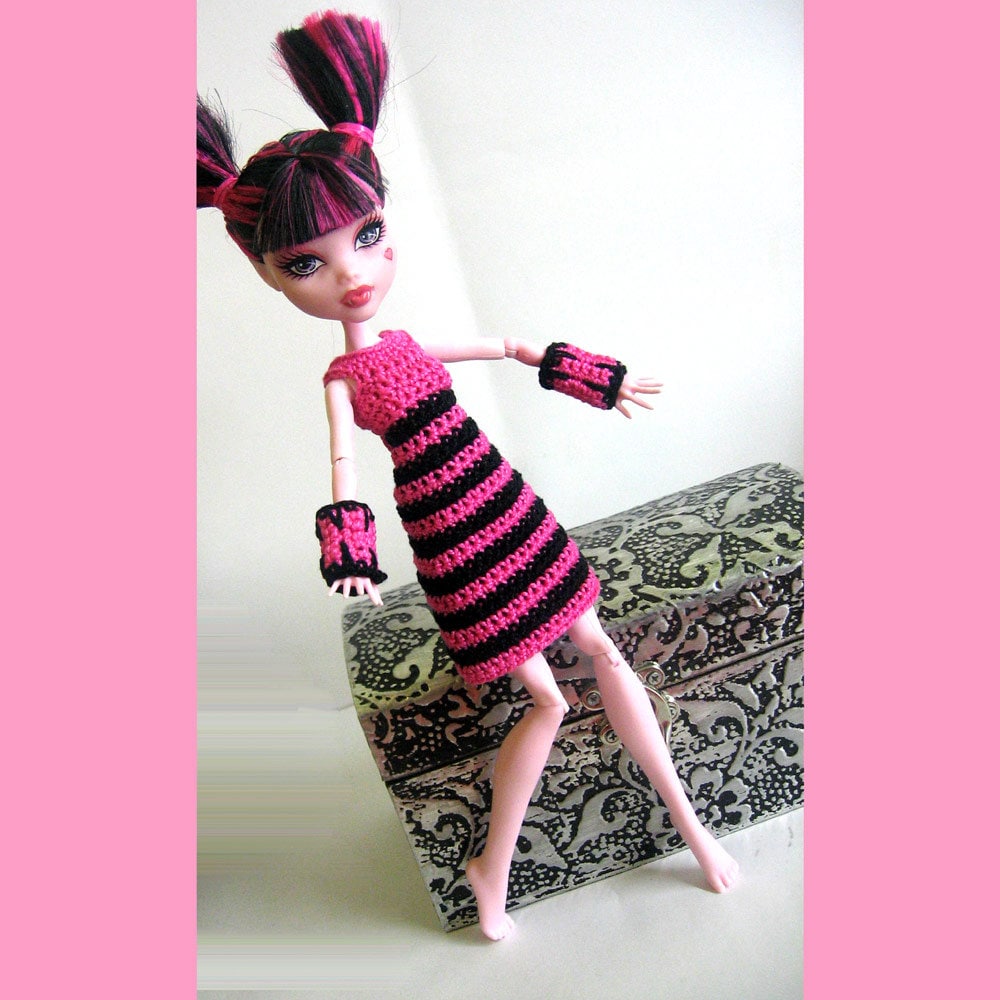 Dress with pink and black stripes + cuff bracelets - adorable!
Monster High Draculaura looks cute in this outfit!